Adding public holidays into your diary can be a tedious task, especially if you have lots of engineers. To make this easier, we have released new functionality for all Go Paperless plan users and above: Public holiday groups!
Holiday groups can be created and assigned to any user to 'block out' the corresponding days in their diary with all-day normal events. Not only is this a much faster method to assign holidays to all of your employees, but it will also avoid scheduling problems of workers being assigned jobs on non-working days. Holiday groups are also supported as part of the intelligent scheduling and online booking systems (available on the Customer Journey plan) to automatically prevent potential clashes.
Public holidays are available on Commusoft's Go Paperless plan and above. To learn more about upgrading from other plans, please book a call with the sales team. If you are on the correct plan and cannot see the setting for public holidays, please log out and log back in.
---
How to create public holidays
Public holiday groups can be found in the 'general settings' section of 'company settings'. To add a holiday group, just type in the name of the group and choose the year that the holidays are for. You can create any number of holiday groups, for instance: bank holidays, religious holidays, perhaps even birthdays - it all depends on your business. Clicking 'Add public holiday name' will add it into the 'existing public holiday groups' box on the right.

To add individual dates to the newly created group, click 'Configure' on the holiday group. Simply pick a date and click 'add holiday date'. They will automatically stack in the order you add them into the system, however, can be ordered chronologically by dragging and dropping to rearrange them. If you add the wrong date by mistake, simply delete it and re-add the correct date. Once you have set all the dates for the holiday group, you can view all of the holidays in the 'Public holiday calendar view'.
New year, new holidays
Each year you will have to re-create your holiday groups and re-assign them to your users. This is required as when you create a holiday group, it is only available for the year you select. Plus, dates like bank holidays (and when they are observed) vary each year.
To help get you started on your holiday groups, here are the bank holidays (UK) for 2022!
3rd January - New Year's Day (Observed)
15th April - Good Friday
18th April - Easter Monday
2nd May - Early May Bank Holiday
2nd June - Spring Bank Holiday
3rd June - Platinum Jubilee Bank Holiday
29th August - Summer Bank Holiday
26th December - Boxing Day
27th December - Christmas Day (Observed)
Assigning holidays to users
Now that you've created your public holiday groups - you need to assign them to your users. To assign them, head over to the individual user's section in 'company settings' and click 'view' on a user. Next, click 'edit business details' and locate the public holiday groups field (just below 'skills'). You can now add as many groups as you need.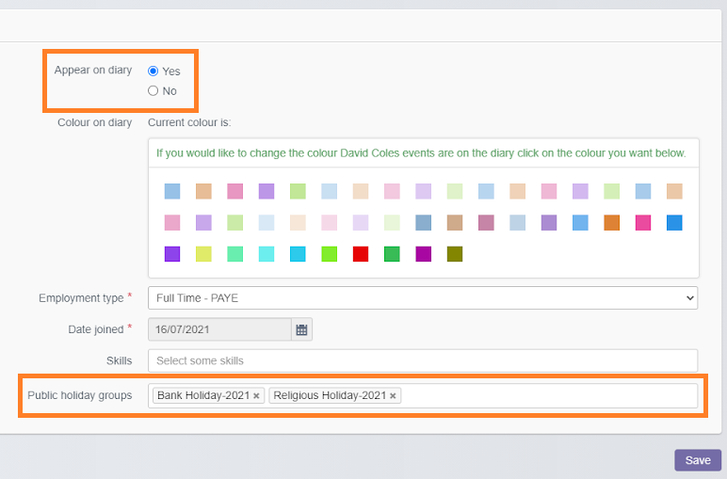 Once added, the public holiday will instantly show up on the diary for the corresponding user, as long as the user is set to appear on the diary. Public holidays will be displayed in the diary as a normal event and will be named 'Holiday: [Name of holiday group]', allowing you to see clearly why that day is blocked.
Last-minute modifications
We know that things can change at the last minute - and sometimes service businesses need to work on public holidays. If an engineer is required to work on a bank holiday but is assigned to a 'bank holiday' group, you can simply delete the holiday (normal event) from their diary without removing them from the group entirely. This will only delete the holiday for that individual user - not the other engineers within that holiday group.
Of course, if needed you can add a new date into a holiday group at any time and this will automatically update all the user's diaries with that group assigned.
Want to schedule holidays more easily?
This function is available in our Go Paperless plan, if you would like to use this new function and currently do not have access book a call with the sales team here.
---